Description
Developed for the Fronius Symo and Fronius Eco inverter series, the Fronius AC Combiner provides the optimal interface between inverter and grid in decentralized energy generation plants. Offering a range of options, such as internal overvoltage protection, pre-fabricated AC connection cables and a service socket, the Fronius AC Combiner is a customized solution for your individual PV project. Compliance with the most common industry standards and tests and use of the highest-quality materials guarantee maximum availability throughout the life of the PV system.
TECHNICAL DATA
FRONIUS AC COMBINER SYMO
FRONIUS AC COMBINER ECO
Rated current
200 A
Rated short-circuit current
50 kA (250 A gG back-up fuse)
Ambient temperature range
-25 – 45 °C
Grid topology
TN (universal: TN-C, TN-S and TT grids)
Overvoltage protection 1)
Type 1+2+3 incl. 80 A back-up fuse

Residual current device 1)

4P-63A-100mA-A-type
AC input/output
3PN 400/230V
Frequency
50 Hz / 60 Hz
AC inputs
3 – 6 x max. 20 kVA/input, fused 3P 50A NH000

2 – 4 x max. 27 kVA/input, fused 3P 63A NH000

Max. output power
120 kVA
108 kVA
AC connection (Input) 1) 2)
H07RN-F 5G10mm²
E-YY-J 5x16mm²
Max. AC-cable cross section (Output)
5 x 150 mm²
Data communication connection 1) 2)
Patch cable, 2m, shielded, RJ45, UV-resistant
Service socket 1)
1PN 230V/16A/30mA, CEE
Dimensions (height x width x depth)
750 x 700 x 300 mm
Weight (without connection cables)
38.5 kg
Housing
Open air wall-mounted housing ALU 99.5HH powder coated RAL 7004 (incl. rain canopy & wall mounting strap)
Protection class
IP 54
Compliance with standards
EN 61439-2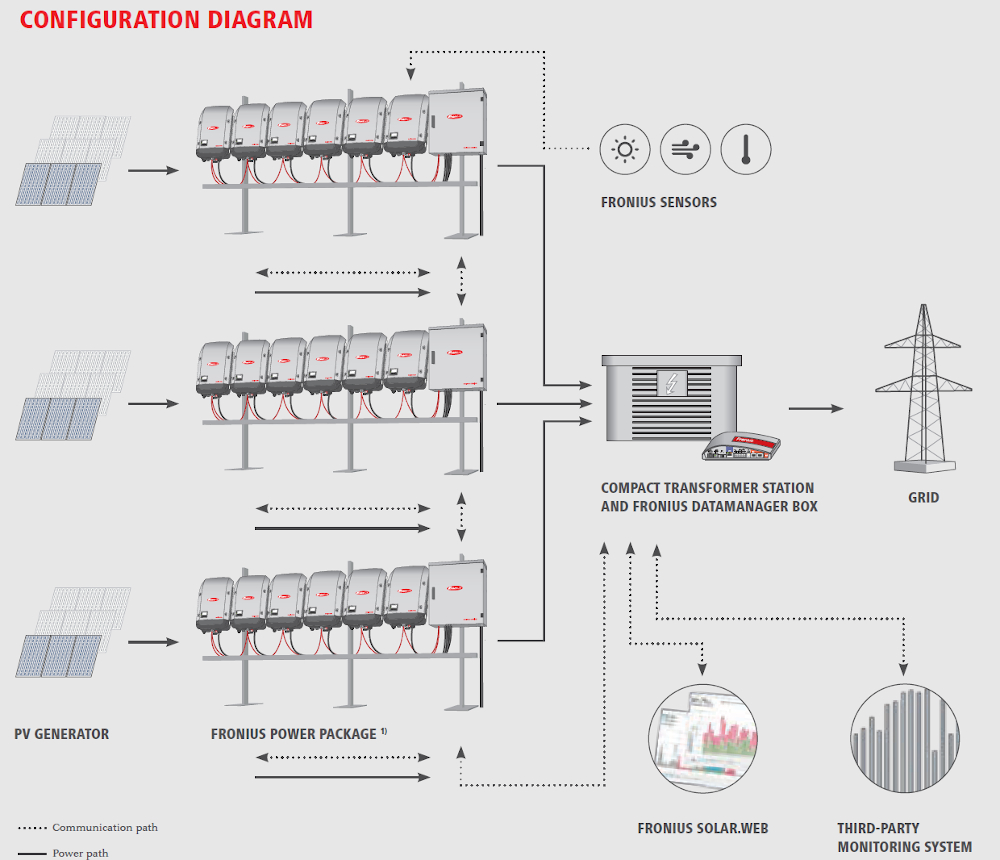 WE HAVE THREE DIVISIONS AND ONE PASSION: SHIFTING THE LIMITS OF POSSIBILITY.
Whether welding technology, photovoltaics or battery charging technology − our goal is clearly defined: to be the innovation leader. With around 3,300 employees worldwide, we shift the limits of what's possible – our record of over 900 granted patents is testimony to this. While others progress step by step, we innovate in leaps and bounds. Just as we've always done. The responsible use of our resources forms the basis of our corporate policy.