Description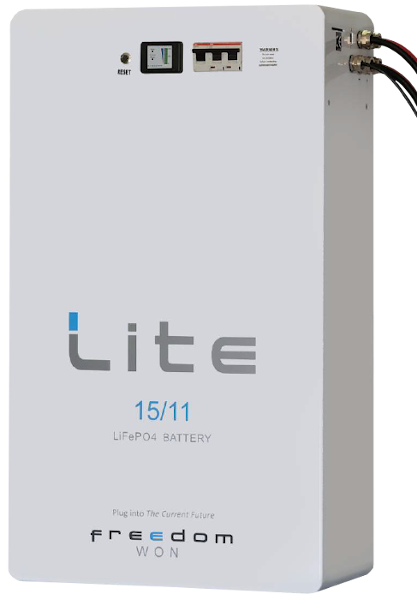 Freedom Lite Home & Business
Residential and Small to Medium Businesses | Lithium storage from 5kWh to 80kWh 52V | Higher Voltage Options Available | Advanced System Interfacing.
Freedom Lite Mini
Entry Level Lithium Storage | 1.4kWh, 2.5kWh & 5kWh | 26V & 52V available. Simple lower-cost design for a basic but long-lasting solution.
Freedom Lite 6U & 7U
19" rack-mounted 5kWh and 10kWh modules | 26V & 52V available. Ideal for server rooms & telecoms.
Freedom Lite Mobility
2.5kWh to 30kWh | 13V, 26V & 52V available. (eg: Golf Carts, Marine).
Freedom Lite Commercial
100kWh to 600kWh | 52V to 850V available. Custom solutions available.
Freedom Lite Industrial
800kWh to 2.5MWh (or larger) | 52V to 850V available. Custom solutions available.
Freedom Street Lite
Solar Street Light Batteries | Various sizes available. Pole mount with bracket.
12V LiFePO4 Range
7Ah to 100Ah. (eg: Caravans, Boats, Yachts, 4×4, Aux Batteries, Alarms, Gate Motors, Electric Fences).
Long Life High-Performance Energy
The Freedom Lite Home and Freedom Lite Business range from Freedom Won offers the long overdue next-generation energy storage with a quantum increase in service life and operational efficiency at a fraction of the life cycle cost compared to other energy storage types.
Expensive?
Lithium Iron Phosphate batteries might seem expensive when compared to lead-acid batteries, but this is not true. A proper scenario comparison will reveal that the purchase costs are very similar and any marginal premium for a LiFePO4 battery is more than compensated for by longer life and very high efficiency. The high efficiency means that far less energy is wasted and that the solar array can be 30% smaller to achieve the same results. In general – because of the high DoD capability and high efficiency the ampere-hour rating of a Freedom Lite Battery needs only be 35% of a lead-acid battery to give the same useful output – this is important when comparing costs between the two technologies.
Compact, Integrated and Attractive
The Freedom Lite (LiFePO4) Home and Business batteries range covers the varying needs of homeowners and small to medium business premises with models ranging from the Freedom Lite Home 5/4 to the largest Freedom Lite Business 80/56. The "Home" models are wall-mounted offering the ultimate in space-saving. All models are integrated with the necessary Battery Management System (BMS) and control circuitry to protect the pack and interface with the separately supplied external inverter/charge units. The standard enclosure is powder coated in white.
Control Interface for Compatible Inverter/Charger unit
The BMS provides relay and analog outputs and CAN Bus for independent control of (and communication with) the inverters and solar charge controllers through a multi-core cable and Ethernet cable respectively. Charge and discharge current limits and state of charge values are some of the important parameters transmitted by the BMS. The Lite is configured prior to delivery for the applicable inverter brand.
Power Interface
Suitably sized positive and negative cables are provided for connecting the 48V DC cables to the inverter and solar charge controller. The DC circuit is protected with a shunt trip circuit breaker.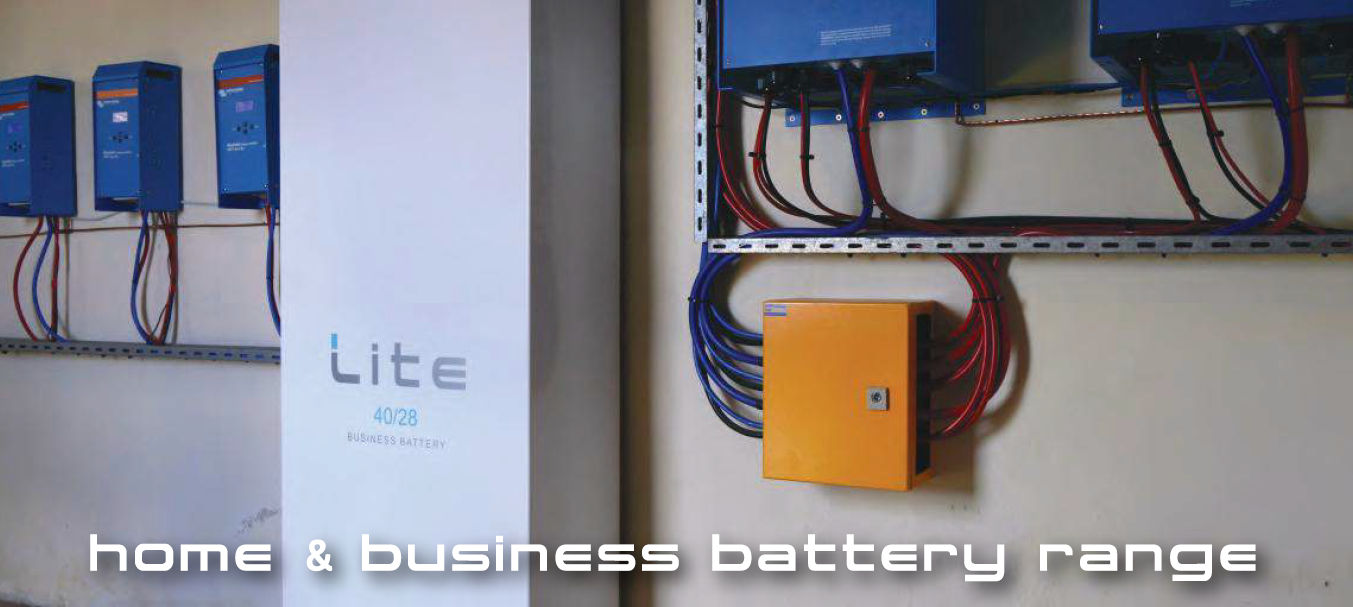 Freedom Lite
Home
5/4
Home
10/7
Home
15/11
Home
20/14
Home
30/21
Business
40/28
Business
60/42
Business
80/56
Max Energy [kWh]
5
10
15
20
30
40
60
80
Energy, 70% DoD [kWh]
(1)
3.5
7
11
14
21
28
42
56
Energy, 90% DoD [kWh]
4.5
9
13.5
18
27
36
54
72
Current Capacity [Ah]
100
200
300
400
600
800
1200
1600
Max/Cont. Current [A]
(2)
250/200
250/200
375/300
375/300
750/600
750/600
1000/800
1000/800
Max/Cont. Power [kW]
(2)
13,0/10,4
13,0/10,4
19,5/15,6
19,5/15,6
39,0/36,4
39,0/36,4
52,0/31,2
52,0/31,2
Max Recommended
Inverter Rated Power
(cont.) [kVA]
8
8
12
12
24
24
36
36
Nominal Voltage [V]
52V, to suit 48V Inverters, min 47V, max 56V
Weight [kg]
60
108
158
211
310
412
613
811
Dimensions on or against
wall – Height x Width x
Depth [mm]
550x
372×265
916x
372×265
916x
540×265
916x
712×265
953x
1044×265
1850x
584×310
1850x
859×310
1858x
1142×310
Enclosure
Aluminium – powder coated white front rated for indoor use
DC Connection – Fly
Leads, [no. per
electrode] (3)
1x 50mm
2
1 x 50mm
2
2 x 50mm
2
2 x 50mm
2
2 x 90mm
2
2 x 90mm
2
2 x 120mm
2
2 x 120mm
2
External Interfacing –
(4
DB15 Plug – 48V Relay Control and Analogue Outputs. Relay control – Separate Remote Enable for Inverter,
Charger, Solar Charge Controller and a Muli-Purpose Programmable Output. Analogue Outputs – 0-5V Signals
for Charge Current Limit, State of Charge.
RJ45 Socket x 2 – CAN Bus for Interfacing with Compatble Inverters and System Controllers,
connection of parallel bateries.
Protection
Shunt Trip Circuit Breaker sized to suit max current, can be tripped by BMS if critcal fault, manual reset. Includes
overcurrent, cell under and over voltage, temperature, weak cell detection, minimum SOC control
Human Interface
State of Charge Display (0 to 100%), Error light, Error Reset Button, Serial RS232 Plug for Programming, WiFi
remote monitoring (optional accessory)
Warranty [5]
10 years (or 3 500 cycles) warranty for average 70% DoD, and max 90% DoD
Service Life [5]
15 years (or 5 500 cycles) expected life at 70% DoD (1), 20 years (>7 000 cycles) at 50% DoD
High Performance
High energy density: more energy with less weight. High charge currents (shortens the charge period – essential for a proper solar power system). High discharge currents (enabling for example electrical cooking on a small battery bank). Long battery life (up to six times the battery life of a lead-acid battery). High efficiency between charging and discharging (very little energy loss due to heat development). High continuous power available.
Rugged
A lead-acid battery can fail prematurely due to sulphation if it is left partially charged, fully discharged, or rarely fully charged for long periods of time. A Lithium Iron Phosphate battery does not need to be kept fully charged, has a wide operating temperature range, and excellent cycling performance. They are therefore THE battery for every demanding application.
Efficient
The typical "round trip" energy efficient (energy that can be taken out of the battery compared to the energy required to re-charge) for lead-acid battery is ~ 70%. For a LiFePO4 battery, it is >96%. The final 20% charge for a lead-acid battery is particularly inefficient with inefficiencies of ~ 50% and can take a very long time for the battery to become completely charged. In contrast, a LiFePO4 battery will always achieve >96% efficiency and so can be fully charged more quickly while wasting less energy.
Size & Weight
LiFePO4 batteries save up to 70% in space and 70% in weight compared to lead-acid.
Battery Management System
it is vital that and advanced Battery Management System (BMS) is used to control the battery charging. This important to actively balance the individual cells that make up the battery and prevent under or over voltage which can otherwise destroy the battery. It is also important for the battery to be able to communicate with the rest of the system.
Residential off Grid Systems
The independence – a typical house can run completely from solar power with say a 6kW peak solar array and a 30kWh Freedom Lite battery pack that will last more than 15 years. The system can be sized to any capacity to suit the household demands and can run the house through two to three days of poor weather. Please refer to Freedom Won's website for more examples.
Telecommunication Tower
The Freedom Lite offers far superior performance to the lead-acid batteries that the telecoms companies are presently using. Please enquire about the Freedom Won range for 19″ rack systems.
Power Quality Improvement
Power users on a poor grid infrastructure plagued with dips and spikes can use Freedom Lite batteries efficiently and cost-effectively to smooth power supply even on high power systems.
Uninterruptible Power Supplies
UPS systems are notorious for the short life span of the typical lead-acid batteries they use, especially if the batteries are kept in a high-temperature environment. LiFePO4 cells are much less sensitive to high temperatures and can happily operate up to 45 degrees Celsius with negligible drop in life span and performance. Freedom Lites can stand a full charge without cycling for lengthy periods (20 years +) without deteriorating.
Battery Tripping Units
Electrical sub requires battery backups to trip the breakers if necessary when there is no grid power. Lead-acid cells left at full charge will still deteriorate, which is a common problem with the batteries used to supply these tripping units. Freedom lite does not deteriorate in such a scenario and only requires discharging and recharging once every 6 months.