Description
According to the comparison between the Fe and LCO battery, Fe battery has the advantages in safety, cycle life, high power output, and high temperature performance. Also, lower cost is it's an advantage.
Lower energy density is Fe battery's disadvantage, it is about 75% of LCO battery.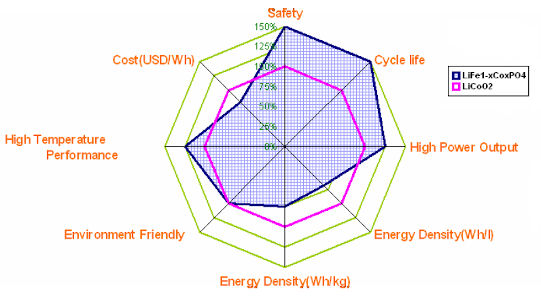 BYD Battery's Advantages
Long Life
Adoption with the new cathode and anode materials. After 3500 100% DOD cycles, the capacity remained 80%.
High Power Density
Optimizing the output power of the cell. The power density of the cell is more than 1720 W/L. Faster Charging Using high conductive anode material for fast charging. 80% capacity can be charged in 10min.
Low Resistance
Maxing the galvanizing area. The resistance of the cell is about 0.5mΩ.
High Reliability
Identifying and preventing all potential risks in cell design, such as short circuits, cockled.
Low self-discharge
With HBL technology, self-discharge of cell is less than 1% capacity per month in storage. Perfect adaptability with different temperature All materials are stable for high or low temperature. The cell's operating temperature is -30℃ to 60℃.
Producible in Automatic
All processes are designed for automatic. The output of every product line is more than 2000pcs/day.
Low Cost
Key materials are made by ourselves. The cost is minimum.
F3DM Battery System Major Parameters
Characteristic
Value
Normal Voltage
325V/315V(at 0.2C discharge/at 1.0C discharge current)

Capacity

45Ah
(From 380V to 200V in 0.2C discharge current)
Dimension
1780*806*120mm
Weight
200Kg
Cycle life
10 year
Short-Time Discharge Power(10s)
135kw
Long-Time Discharge Power
67.5kw
Usable Energy
13.5kwh

Working Temperature (°C)

Min
Max
-40
60

Storage Temperature (°C)

Min
Max
-46
66
Temperature Adjust System
Air (cooling and heating)
System Inside cycle Channel
Voltage Sensor
Each Cell
Temperature Sensor
Each Cell

E6 Battery System Major Parameters
Characteristic
Value
Normal Voltage
325V/315V(at 0.2C discharge/at 1.0C discharge current)

Capacity

180Ah
(From 380V to 200V in 0.2C discharge current)
Dimension
1730*915*330mm
Weight
650Kg
Cycle life
10 year
Short-Time Discharge Power(10s)
270kw(5C)
Long-Time Discharge Power
162kw
Usable Energy
57kwh

Working Temperature (°C)

Min
Max
-40
60

Storage Temperature (°C)

Min
Max
-46
66
Temperature Adjust System
Air (cooling and heating)
System Inside cycle Channel
Voltage Sensor
Each Cell
Temperature Sensor
Each Cell
Click here for Full Brochure with product test results for BYD Fe Battery for HEV/EV