Description
The control center for smart energy management
The Sunny Home Manager 2.0 is SMA's intelligent energy manager and enables the most efficient use of solar energy in the home. It optimizes PV self-consumption and significantly reduces electricity costs. To do this, it measures the power of PV generation, purchased electricity as well as grid feed-in, and gives an overview of all relevant energy flows in the household. By means of local PV generation forecasts and the measured household consumption profile, the self-learning device prompts the user with energy-related action recommendations. Operation of the controlled appliances is coordinated in a way to optimize the use of self-generated solar energy. The path to intelligent energy management is quite easy. Simply install the Sunny Home Manager 2.0 at the grid connection point, connect it to the internet router using an Ethernet cable, then register the PV system in Sunny Portal or Sunny Places free of charge and join more than 30,000 systems already installed worldwide in benefiting from greater energy efficiency.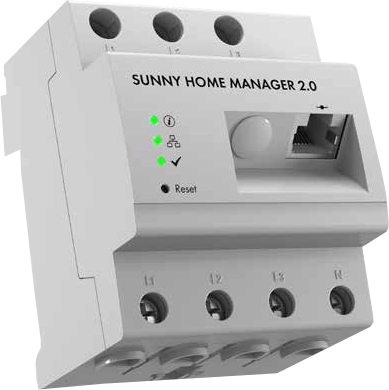 Innovative
Energy manager with integrated measuring device
Consumption analysis of individual loads
Optimized battery charging in SMA storage systems
Easy to Use
Quick plug-and-play installation
Overview of all relevant appliances, PV generation and battery systems
Use energy more efficiently and reduce electricity costs
Transparent
Energy balance and load data shown in interactive diagrams
Integrated weather and PV forecast data
PV system monitoring via Sunny Portal and Sunny Places
Flexible
Appliance connection via standard protocols and compatible radio-controlled sockets
For compatible devices, such as heat pumps, electric vehicles and other household appliances.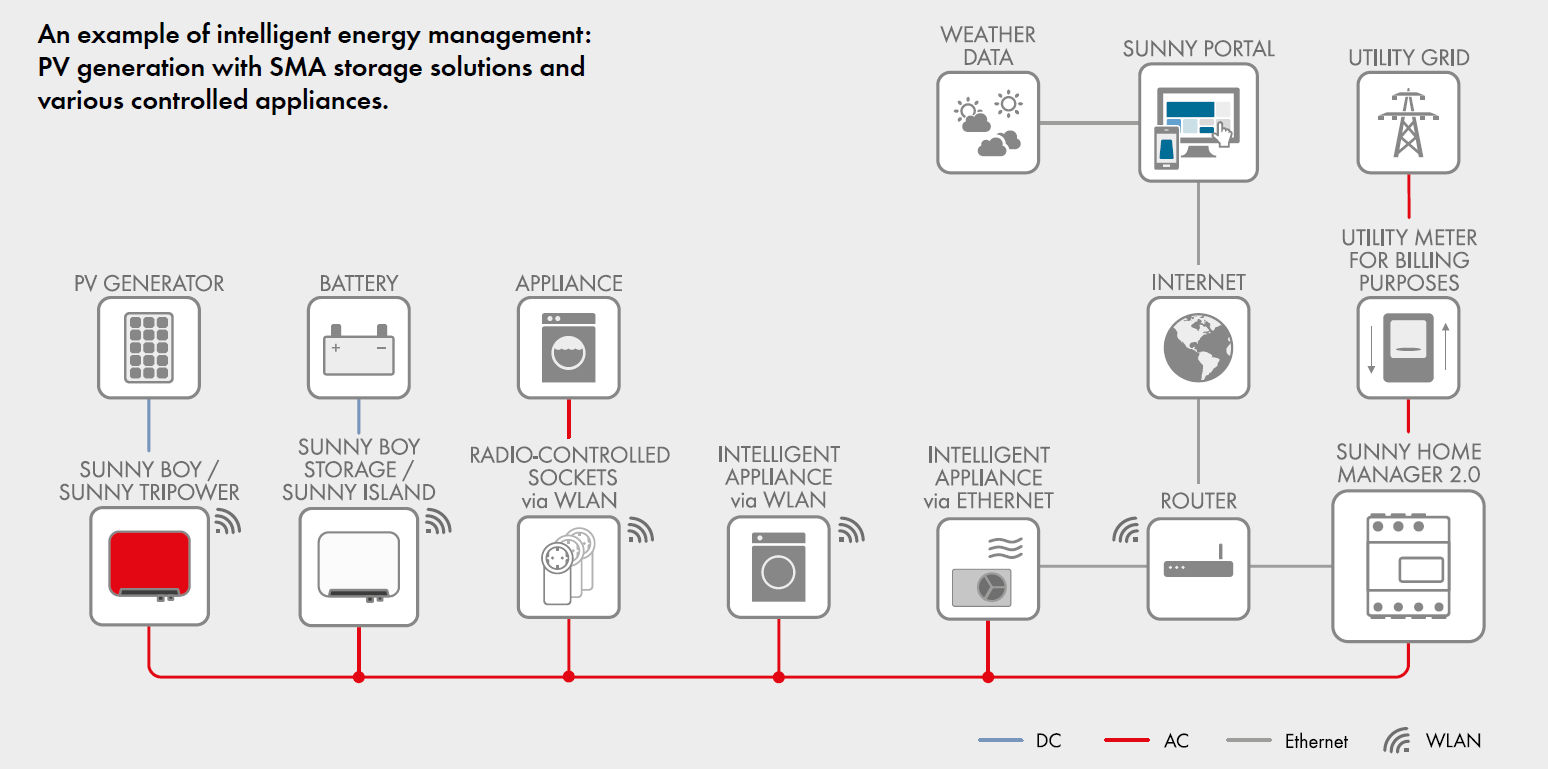 Technical Data
 Sunny Home Manager 2.0
 Energy Manager
 Connection to the local router
 via Ethernet cable (10/100 Mbit/s, RJ45 plug)
 Connection of SMA PV inverters and battery systems
 Ethernet or WLAN via local router
 Connection of appliances for energy management
For examples of applications for appliance connection and controls
 a. Direct data connection (EEBUS, SEMP) (e.g., intelligent heat pumps, electric car charging
stations, heating elements, household appliances, etc.)
b. Switchable radio-controlled socket (e.g., on/off controls for household devices)
 Integrated Measuring Device
 Measurement accuracy, measuring cycle
 1%, 1000 ms
 Standard application
 Measurement of purchased electricity and grid feed-in at the grid connection point
 Alternative application
 a. Measurement of PV generation power
b. Measurement inactive (L1, N, network)
 Max. number of devices on the system
 Total number of devices in the system
 up to 24
 of which devices as appliances in active energy management
 up to 12
 Inputs (voltage and current)
 Nominal voltage
 230 V/400 V
 Frequency
 50 Hz/±5%
 Nominal current/limiting current per line conductor
 5 A/63 A (>63 A can be covered via external current transformers)
 Connection cross-section
 10 mm² to 16 mm² (for 63 A application)
 Torque for screw terminals
 2.0 Nm
 Ambient Conditions in Operation
 Ambient temperature
 –25°C to +40°C
 Storage temperature range
 –25°C to +70°C
 Protection class (according to IEC 62103)
 II
 Degree of protection (according to IEC 60529)
 IP2X
 Max. permissible value for relative humidity (non-condensing)
 5% to 90%
 Operation altitude range
 0 m to 2000 m
 General Data
 Dimensions (W/H/D)
 70 mm/88 mm/65 mm
 Top hat-rail width units
 4
 Weight
 0.3 kg
 Mounting location
 Switch or meter cabinet
 Mounting type
 Top-hat rail mounting
 Status display
 3 x LED
 Self-consumption
 < 3 W
 Features
 Operation and visualization
 via Sunny Portal, Sunny Places, Sunny Portal Pro
 Update function
 Automatic for the Sunny Home Manager and the connected SMA devices
 Warranty
 2 years
 Certificates and approvals
 www.SMA-Solar.com
 Accessories
 SMA Energy Meter as complement to integrated measuring device
 Precise three-phase measuring, connection via Ethernet in the local network.
 Last updated: 11/2019
 Type designation
 HM-20