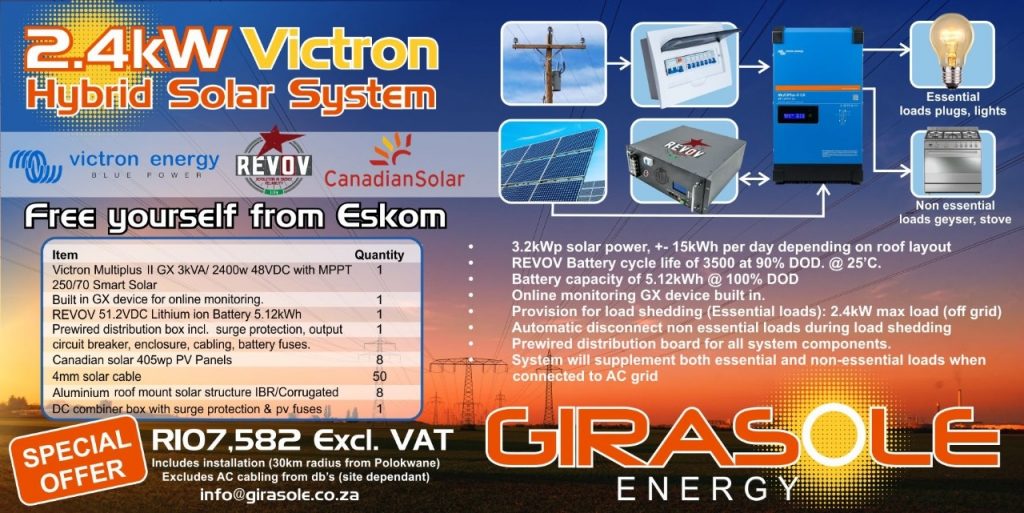 Provision for load shedding 2.4kw load (off-grid)
3.2kwp solar power, +- 15kwH per day depending on the roof layout
REVOV Battery cycle life of 3500 at 90% DOD. @25°C
Online monitoring GX device built-in.
Battery capacity of 5.12Kwh @ 100% DOD
Automatic disconnection board for all system components.
The system will supplement both essential and non-essential loads when connected to AC grid.
Exclude installation and cabling for db's
| Item | Quanity |
| --- | --- |
| Victron Easy Solar II GX 3kva/ 2400w 48VDC with MPPT 250/70 | 1 |
| Built in GX device for online monitoring | 1 |
| REVOV 48VDC Lithium ion Battery 5.12kwh | 1 |
| Prewired distribution box incl. surge protection, output circuit breaker, enclosure, cabling, battery fuses. | 1 |
| Canadian solar 405wp PV Panels | 8 |
| 4mm solar cable | 50 |
| Aluminium roof mount solar structure IBR/Corrugated | 8 |
| DC combiner box with surge protection & pv fuses | 1 |